Author
Doaa Kurdi
Updated
2022-09-20
The Eircode Address File (ECAF) and Eircode Address Database (ECAD) are two data products created by Eircode, the Republic of Ireland's national address system.
ECAF contains all 2.2 million address points in Ireland. ECAD incorporates ECAF and also contains additional data for each address such as alias address information, geo-coordinates and more.
Ireland Addresses
The Republic of Ireland has a number of challenges when it comes to property addressing. Firstly, there is a high level of non-unique addresses (NUA), which are properties that do not contain a unique building number or name. Approximately 35% of all Irish addresses are non-unique which equates to 600,000 addresses. Another problem is that you can also find multiple versions of the same property name, and names in languages English and Gaelic.
ECAD includes all the address information that makes it easier to identify an address. Below are a few of the data points provided:
Address - Contains the information that is used to make up an address, such as street, post town etc.
Eircode - A unique seven character alpha-numeric code used to identify a property. Read more about Eircodes here.
Alias – Alternate names, spelling or address formats of properties.
Building Address Type - Single Occupancy or Non-residential Building.
Geospatial Information - Longitude and Latitude geocoordinates.
Vacancy Status, Holiday Home, Under Construction and more! You can view more address results on our documentation
Eircode Address Validation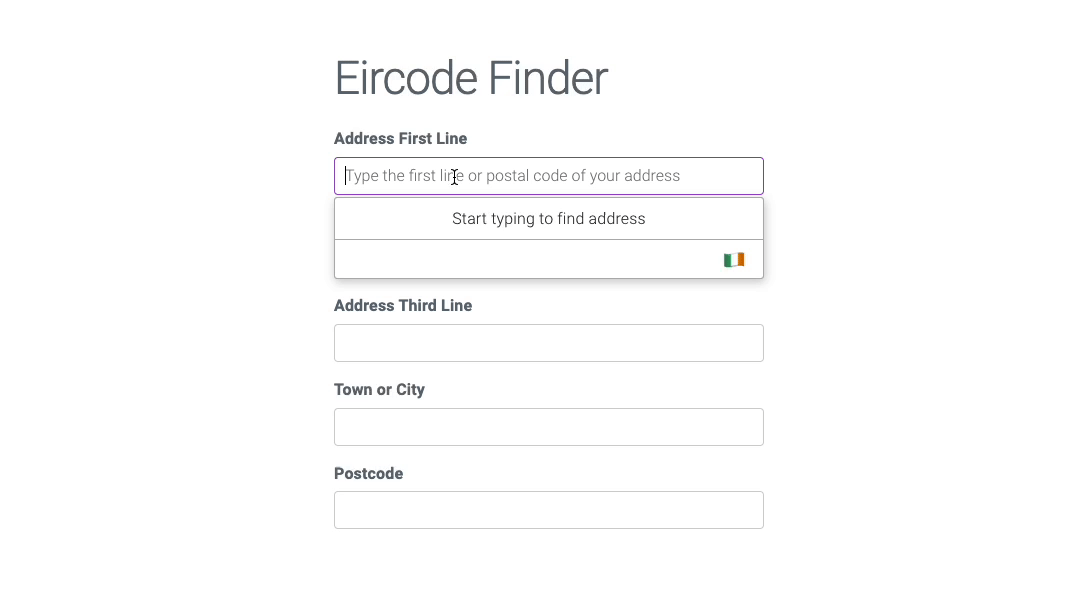 The Ideal Postcodes Address Finder makes filling out address data in a form simpler and faster. Enter an address in either English or Gaelic to receive the most complete, accurate and up to results.
We provide comprehensive data with every address search, and fuzzy matching to correct mispellings, abbreviations, extra characters etc. You can find out more on our Eircode page.
Contact us if you are interested in implementing Eircode data to your system.